Un disco de culto antes de su publicación
'The Many Faces' es una prestigiosa serie con mas de veinte volúmenes publicados a nivel global y con gran recepcion entre los fans de King Crimson. Son álbumes triples con cuidada presentación en digipack (y extensos textos interiores explicativos) que incluye 3 discos y está dedicada a recorrer los lugares menos conocidos de las grandes figuras del rock.
En cada entrega se encuentran colaboraciones, inéditos, participaciones, temas desconocidos, canciones propias grabadas por otros músicos, como así también las versiones originales de temas registrados por el artista en cuestión.
La serie tiene volúmenes dedicados varios de los mas grandes artistas como Elvis Presley, The Beatles, The Rolling Stones, David Bowie, Ramones, Emerson, Lake & Palmer, Genesis, The Doors, Guns N' Roses, Black Sabbath, Prince, Motörhead, Joy Division, Daft Punk, AC/DC, Led Zeppelin, Sex Pistols, Pink Floyd, Deep Purple, Yes y Bob Marley & The Wailers que, desde hace años, se venden en las disquerias de todo el globo.
The Many Faces of King Crimson es el próximo lanzamiento de la colección, que reconoce al grupo como uno de los grandes artistas de todos los tiempos, pero el mánager y abogados de Robert Fripp y King Krimson quieren detener su publicación pese a que, han reconocido, el repertorio del álbum es intachable. Simplemente no les gusta que salga un álbum con el nombre del grupo que escape a su control.
Por otro lado, con solo ver la lista de temas, ya los fans, tanto del genero como del rock progresivo han demostrado un inmenso interés en el disco, cuyo lanzamiento es inminente, pero cuya circulación puede verse obstruida a las pocas horas de su publicación, por lo tanto se está transformando en un disco de culto antes de su lanzamiento, la pieza que todos los fans quieren tener.
En tiempos de Internet, donde la información fluye en forma casi instantánea, pareciera que hacerse de una copia física antes de la desaparición del disco fuese un desafío para todo amante del rock.
- Listado de temas: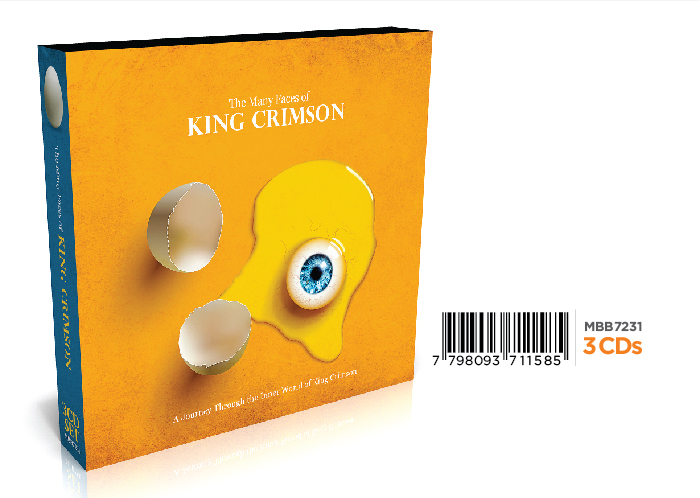 Disco 1
1. Salmon Leap - Anthony Phillips Feat Andy McCulloch
2. Divine Presence - Lona Feat Robert Fripp
3. The Night People - Pete Sinfield Feat Boz Burrell & Ian Wallace
4. Wonderland - Gordon Haskell
5. Cascade - Jamie Muir, Michael Giles & David Cunningham
6. Thunderbird in Thirds (Edit) - Pat Mastelotto & Trey Gunn
7. Still Moving in Fear - Sandy Dillon & Hector Zazou Feat Bill Rieflin
8. The Song of the Sea Goat - Pete Sinfield Feat John Wetton, Mel Collins, Keith Tippet & Ian Wallace
9. Walking Into Mirrors - Johnny Warman Feat Tony Levin & Jerr y Marotta
10. Ghost Dance - Jamie Muir, Michael Giles & David Cunningham
11. Still - Pete Sinfield Feat Greg Lake
12. (S.O.S.) Sending Out Signals - Johnny Warman Feat Tony Levin & Jerr y Marotta
Disco 2
1. I Talk to the Wind - Giles, Giles & Fripp Feat. Ian McDonald
2. Make It Today - Giles, Giles & Fripp
3. Wonderland - Giles, Giles & Fripp Feat. Ian McDonald
4. Suite Nº 1 - Giles, Giles & Fripp
5. Newly-Weds - Giles, Giles & Fripp
6. Why Don't You Just Drop in - Giles, Giles & Fripp
7. Erudite Eyes - Giles, Giles & Fripp
8. Scrivens -Giles, Giles & Fripp
9. She Is Loaded - Giles, Giles & Fripp
10. Digging My Lawn - Giles, Giles & Fripp
11. Tremelo Study in A-Major (S P a N I S H S U I Te) - Giles, Giles & Fripp
12. Ypocrite - Giles, Giles & Fripp
---
Texto de Diego Perri