Arjen A. Lucassen publica en abril su nuevo disco bajo la firma del proyecto Ayreon: será el álbum 'The Source' y ya tenemos listado de temas.
Pues ya lo sabemos todo sobre el nuevo álbum de Ayreon: título, portada y ahora el listado de temas para este tan esperado 'The Source'. Además, en los últimos meses se fue desvelando el elenco de músicos y vocalistas que participarán en esta nueva ópera rock, que tendrá formato de doble CD.
Pero también han desvelado que habrá una edición con DVD y que en él se podrán ver los videoclips de los 4 temas 'Everybody Dies', 'Star Of Sirrah', 'Run! Apocalypse! Run!' y 'The Day That The World Breaks Down'. El octavo disco de Ayreon lo publicará Mascot Label Group y la fecha de publicación sería, según algunos medios, el mes de abril, pero aún no es oficial.
- Listado de temas de 'The Source':
CD1:
Chronicle 1: The Frame
1. The Day That The World Breaks Down
2. Sea Of Machines
3. Everybody Dies
Chronicle 2: The Aligning Of The Ten
4. Star Of Sirrah
5. All That Was
6. Run! Apocalypse! Run!
7. Condemned To Live
CD2:
Chronicle 3: The Transmigration
8. Aquatic Race
9. The Dream Dissolves
10. Deathcry Of A Race
11. Into The Ocean
Chronicle 4: The Rebirth
12. Bay Of Dreams
13. Planet Y Is Alive!
14. The Source Will Flow
15. Journey To Forever
16. The Human Compulsion
17. March Of The Machines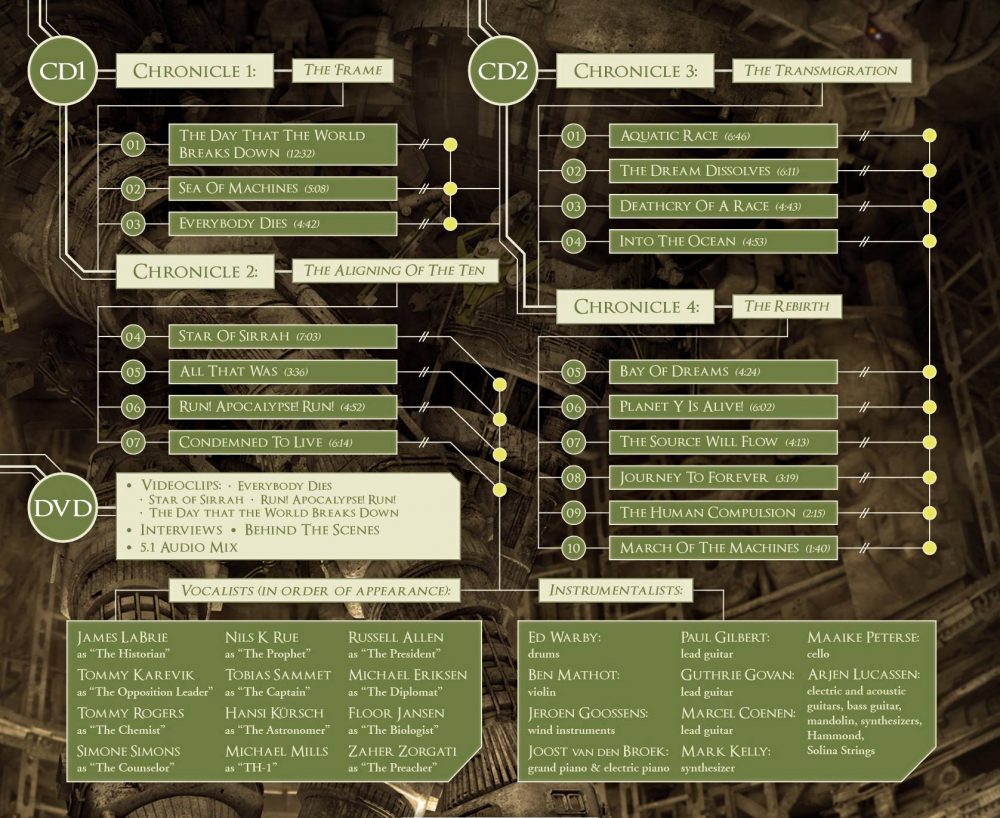 - Reparto:
James LaBrie - Dream Theater
Tommy Rogers - Between the Buried and Me
Simone Simons - Epica
Mike Mills – Toehider
Floor Jansen - Nightwish
Hansi Kürsch - Blind Guardian
Tobias Sammet - Avantasia, Edguy
Michael Eriksen -Circus Maximus
Nils K Rue - Pagan's Mind
Zaher Zorgati - Myrath
Russell Allen - The President
Y los instrumentistas que les acompañarán:
Paul Gilbert - guitarras
Guthrie Govan - guitarras
Mark Kelly - teclado
Marcel Coenen – guitarras
- Tráiler del disco:
---
---